Skills for Life Programme
A four-module programme aimed at embedding core skills for application in all aspects of life.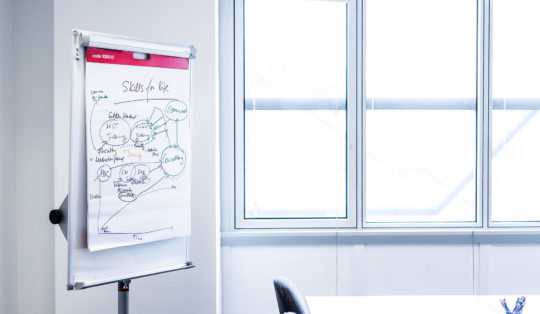 CEDR Skills for Life Programme takes a flexible, modular approach to enhance existing expertise. The skills learned can be applied across negotiation in a wide variety of contexts, not just in the workplace.
This is a four-module programme which can be implemented over the course of a number of weeks. It aims to embed core skills in a pragmatic and sustainable way.
The goal is to provide participants with a comprehensive and accessible skill-set to enhance their existing expertise and which can be applied across a broad spectrum of negotiation, mediation and crucial conversation contexts. In the broadest sense, they are Skills for Life.
Module 1 – Active Listening: This ensures that the foundation skill of Active Listening is fully embedded for all participants. It adds further advanced skills such as what to listen for, the use of questioning techniques and how to turn what has been disclosed into strategy.
Module 2 – Managing Emotion: Providing participants with a greater understanding of how emotion and thinking systems influence behaviours. The knowledge will not only enable you to recognise when and how emotion is affecting your and others' behaviours, but importantly, strategies with which to influence those behaviours in a more productive manner.
Module 3 – The Art of Influence and Persuasion: An understanding of how people think and make decisions. Then exploring how to influence with integrity, avoid the pitfall of bias, and enhance persuasiveness in bargaining/problem solving to achieve company goals.
Module 4 – Real-Life Application: Pulling the learning together through the exploration of a selection of real-life (bespoke to the client) difficult scenarios. This includes equipping participants with a framework and set of tools to navigate those eventualities (such as dealing with 'difficult people' and intercultural differences) with greater efficiency and more positive outcomes.
These are core people skills for life, which means that everyone can benefit from them, from team leaders to team members and individuals.
They are the core skills used in negotiation, conflict resolution, mediation, difficult conversations and every person-to-person interaction. They are transformational skills which can benefit anyone, whether at work, home or elsewhere, helping to develop your character and define your unique appeal.
CEDR is a leading international dispute resolution and conflict management consultancy, recognised internationally as providing the gold standard of commercial mediation training.
We have trained and coached more than 9,000 people around the world.
CEDR is led by renowned and experienced facilitators and speakers who are first and foremost practitioners.
Our preference is to work to a maximum 1:6 trainer/participant ratio, or less in certain scenarios, thereby delivering more personal, effective training.
This course will help set the tone for who you and your team are, deliver more in less time, and be a generator of growth.
This training made me feel like my company was investing in me as a person as well as an employee. Thank you CEDR – you were great! Employee , Global Insurance Company
Active Listening Skills
Philip Williams, former Hostage and Crisis Negotiator explores what is 'Active Listening' and why it is so important. This essential life skill is the foundation of managing and resolving conflict and forms the bedrock of all CEDR's internationally recognised training.