Advanced Negotiation Skills
Be able to handle even the most complicated negotiation with skill and confidence.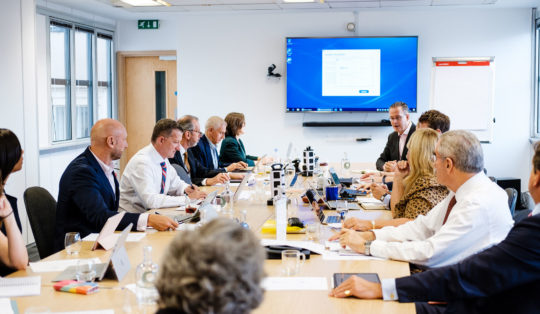 How we help
This course enables individuals to handle any negotiation with skill and confidence. CEDR's practical programme is particularly distinctive because it's taught by trainers who are all practicing negotiators, facilitators, and coaches. It also involves a high level of participant coaching.
The Advanced Negotiation Skills programme can be completed in two ways:
You can take Module 1 on its own to gain a strong grounding in negotiation. Alternatively, you can fully unlock your potential as a negotiator by taking both modules.
Module 2 contains assessed elements which, subject to performance, lead to formal accreditation as a CEDR Advanced Negotiator.
Days 1 & 2: Methods and theoretical input are embedded in practical case studies and demonstrations.
There's skills training through practice, feedback and coaching across a wide range of topics.
Days 1: Review of foundational skills in the workplace. Additional methods and theoretical input are embedded in increasingly complex exercises and role-plays, plus training in further skills.
Days 2 & 3: Further coaching in advanced topics such as working in teams and multiple parties, under-pressure role-plays, complex issues, and negotiating within and outside an organisation.
Attainment of the CEDR formal accreditation in Advanced Negotiations Skills.
Anyone responsible for resolving disputes
HR professionals (ER, L&D, HRBPs, managers and directors)
In-house lawyers
Line managers and directors
Complaints handlers and customer service representatives
Trade union and work council representatives
Professional body representatives
Commissioners of 'neutral' workplace or employment investigations and other processes (e.g. reviews, independent investigations, chairing appeals and so on).
Professionals from almost any sector can benefit from our advanced skills training. That includes those engaged in international business, law, research and education, as well as those working in public and development sector organisations.
I have done several ADR training courses over my career; this was by far the best. Pitched at an appropriate level; extremely well prepared and structured; both academic and realistic. It was truly excellent. Senior Lawyer , European Organisation
Active Listening Skills
Philip Williams, former Hostage and Crisis Negotiator explores what is 'Active Listening' and why it is so important. This essential life skill is the foundation of progressive and effective negotiation skills and underpins all of CEDR's internationally recognised training.