CPD Masterclass with Maria Bacas
Register Now:
This hybrid seminar (via Zoom & in-person) for Lawyers, Clients and Mediators will discuss how businesses can integrate ADR clauses in their contracts and how to work with an organisation when a dispute resolution clause may apply to ensure that mediation takes place.
The Seminar will be led by Maria Bacas Malo a Spanish CEDR Mediator and Lawyer, former Director of Legal Services for Starbucks in France, Spain and Portugal, as well as a senior in-house lawyer in other companies. The session will be introduced by Lauren McGuirl CEDR's Director of Commercial Services and supported by Eve Pienaar, CEDR Mediator and former in-house lawyer at RIBA and RICS.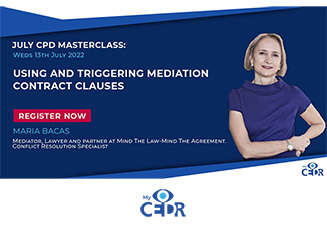 This masterclass will include:
The seminar whilst very much developed from the perspective of the in-house lawyer, is not just a technical session. The session will cover the benefits to adding such a clause early on in the contracts, and how to bring the rest of the organisation on the journey to becoming more accepting of mediation.

Few businesses think of the potential dispute resolution process when drafting the contracts, and often quickly go over this step when negotiating contracts.
Equally when it comes to the unravelling of a contract it can be all to easy to 'forget' a dispute resolution clause, especially in a less familiar with using mediation.

Maria, using her practical experience of existing international contracts and dispute resolution processes will discuss how to use a mediator's skillset when in-house in order to facilitate exploration, consider risks, best and worst scenarios when considering how and when mediation might be used.
The in-person event will be held at CEDR's HQ at St. Paul's, London.