Negotiating International Investment Treaties: A Path to Sustainable Mutual Gain [Case Study]
We upskill people and teams to utilise their expertise.

– Susanne Schuler, Director of Training and Consultancy, CEDR
Overview
In today's rapidly evolving global economy, international investment treaties have taken centre stage as a crucial framework governing foreign investments across countries. As we navigate the complexities of this intricate web of agreements, one question emerges: Are we adequately prepared to negotiate these treaties in a manner that fosters sustainable mutual gain?
The landscape of international investment treaties, currently numbering around 2,500 in force[1], is a testament to the ever-changing dynamics of the global economy. However, many of these treaties were conceived decades ago when the world faced different economic challenges and priorities. It has become increasingly apparent that a fresh approach is needed to ensure these agreements benefit both host states and investors.
This case study revolves around a collaborative effort between the Centre for Effective Dispute Resolution (CEDR) and the International Finance Corporation/World Bank Group (IFC) to combine negotiation skills with investment treaty expertise to support both host states and investors to engage in sustainable partnerships.
The Collaborative Approach: CEDR and IFC in Tunisia
The Attracting Foreign Direct Investment (FDI) program in Tunisia is a key priority for the country. Therefore, CEDR, recognised as the premier European consultancy specialising in conflict resolution, negotiation, and mediation, joined forces with Professor Makane Mbengue, a distinguished expert in public international law and investment law, known for his extensive experience in negotiating treaties.
Assisted by Eloïse Obadia, an expert in investment policy and treaties, and Mehdi El Batti, a specialist from IFC/World Bank Group's Creating Markets Advisory group, this three-day capacity building intervention empowered 20 participants with negotiation skills and techniques in the context of international treaties. These participants, responsible for negotiating investment treaties, represented key Tunisian ministries, including 'Economy and Planning', 'Trade and Export Development', 'Finance', and the 'Tunisian Investment Authority'.
Collaboration Objectives: A Recipe for Success
CEDR's objective was to design and deliver a programme for change that included:
Providing Core Negotiation Skills: Participants were equipped with a core set of negotiation skills and principles, taught using extensive practical exercises and roleplays, tailored to international investment agreements.
Boosting Confidence: The program aimed to instil confidence, courage, and control in participants, ensuring they felt well-prepared to negotiate treaties that yielded sustainable and mutually beneficial outcomes.
Cross-Cultural Negotiations: With a globalized economy, the capacity to conduct effective cross-cultural negotiations with foreign officials became a critical component.
Assessing Interaction Levels: Understanding when and how to engage with other negotiators was emphasized to create balanced agreements.
Process Coordination: Developing skills to design, organise and manage the work of the negotiating group.
Unlocking Cooperation: Common Language and Strategy
The feedback received from participants confirmed the mission's success in establishing a common negotiation language and strategy.
Participants from diverse ministries and departments were better equipped to collaborate effectively and leverage their collective knowledge, transforming them into a formidable negotiation team.
We look forward to continuing to work with IFC/World Bank Group to understand the impact of the training in the long term.
Understanding the African Context: A Global Perspective
Beyond the immediate context of Tunisia, the mission shed light on the unique dynamics of investment treaty negotiations within the African context. As Professor Makane Mbengue has commented on:
Africa has often been presented as an 'investment rules taker', despite its longstanding contribution to the formation and shaping of the international investment regime." It's time to show "the active role that African countries have played since their independence in the development of the investment regime and also in the promotion of the ICSID[2] system.[3]
The proliferation of bilateral investment treaties (BITs) and foreign investment laws (FILs) in Africa has led to an increase in claims involving African investors and states.
African nations are now emphasising a balanced approach that integrates cultural values, such as "Ubuntu," and sustainability into investment protection standards. This shift is not unique to Africa but resonates with many countries in the 'Global South.' It is critical these nations, through their negotiating officials, have the skillset and confidence to apply these aims around the negotiating table.
Conclusion: Negotiating for Sustainable Mutual Gain
Drawing upon over three decades of practitioner experience in negotiating and mediating in high-stakes situations, we can confidently conclude that three critical factors determine success or failure in negotiations: preparation, skills, and understanding of interests and needs.
To achieve genuine mutual gain, a mindset rooted in interest-based negotiation strategies is indispensable. All parties must come to the table equipped with negotiation skills and a shared commitment to mutual gain. As our case study illustrates, this approach can transform international investment treaty negotiations into a pathway toward sustainable and mutually beneficial outcomes.
In a world marked by economic shifts and evolving global priorities, the ability to negotiate effectively in the international investment arena stands as a linchpin for success. It is our hope that this intervention serves as a beacon of inspiration for future negotiations and sets a precedent for achieving sustainable mutual gain in an ever-changing world of investment treaties.
This collaboration with the IFC/World Bank Group and Tunisia goes to the heart of CEDR's mission – Better Conflicts, Better Outcomes, Better World.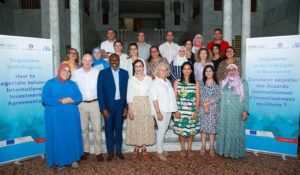 CEDR would like to pay tribute to one of the participants who sadly passed away last month and who said she truly enjoyed the training and the collaborative spirit of the workshop.
[1] https://www.oecd.org/investment/investment-policy/investment-treaties.htm
[2] International Centre for Settlement of Investment Disputes (worldbank.org)
[3] Makane Moïse Mbengue, Africa's Voice in the Formation, Shaping and Redesign of International Investment Law , ICSID Review – Foreign Investment Law Journal, Volume 34, Issue 2, Spring 2019, Pages 455–481, https://doi.org/10.1093/icsidreview/siz029