Eileen Carroll KC (Hon)
Principal Mediator and Co-Founder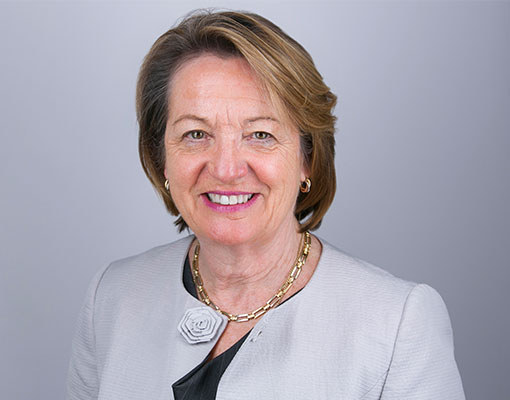 Client Feedback
"She settled the unsettleable"
"She led the most effective opening session I have ever seen."
"She has a very unique, dynamic and proactive approach to mediation"
Languages
English
Overview
Eileen started her career in the international chemical industry before becoming a partner in the city law firm Turner Kenneth Brown (now CMS) where she was a member of the Management Committee and the International Strategy partner. In over 20 years of practice, Eileen worked with multinational corporations and a number of celebrity clients based in Europe, the Far East, India and the United States. She spent 10 years working with North American clients and worked in San Francisco with Thelen Reid Priest before returning to the U.K. to spearhead the creation of CEDR. From 1996-2016 Eileen was CEDR's Deputy Chief Executive, a role performed alongside the running of her successful mediator practice. In December 2016 she took on the role of CEDR's Co-founder and Principal Mediator.
She is recognised as one of the pioneers of mediation techniques in the U.K and with over 25 years' experience as a practising mediator, she is one of the most senior and highly regarded mediators in the country. Eileen's mediation practice has a very broad commercial perspective, working with clients on claims relating to dozens of different sectors and activities. She has mediated disputes involving banks, insurance companies, media, multinationals, sovereign states and private individuals in the UK and internationally. In 2013 Eileen was awarded Queen's Counsel Honoris Causa for her mediation practice and role in founding CEDR.
Eileen also mediates under the following schemes: Court of Appeal, FSA, OFT, Railway Industry Disputes Panel and various local court schemes. Eileen is also on several international panels including, the International Institute for Conflict Prevention & Resolution (CPR) in New York, Singapore International Mediation Centre and Vienna International Arbitration Centre.
Eileen holds a Coaching Qualification from Henley Management College and has provided coaching to senior executives from a range of industries. Eileen is lead faculty on the CEDR Advanced Negotiation Course and has been asked on several occasions to advise clients on preparing for complex negotiations and has chaired and facilitated a number of complex negotiations some in the region of £1 billion, examples include Maxwells pensions, BCCI collapse and British and Commonwealth receivership. She has also been engaged by multi-nationals to advise on Conflict Management to their Senior Executive teams in both the advertising and media industries.
She has spoken on numerous platforms in Europe and North America including Fordham University, Harvard Business School, OECD, World Bank and has made guest appearances on various Radio 4 programmes. She is the author of many articles on ADR, co-author of International Mediation- the Art of Business Diplomacy, and a contributor to Butterworth's Mediators on Mediation. She was also featured in Elizabeth Cruickshank's book entitled Women in the Law which is a collection of interviews of twenty-eight women solicitors, barristers and judges, each recognised as outstanding in her profession.
Other distinctions include being the first European to receive the New York-based CPR Institute of Dispute Resolution Award for excellence in alternative dispute resolution, 1997. She received an Entrepreneurial Award from European Union of Women 2005 in recognition of outstanding contribution to pan-European understanding and progress that provides inspiration to others and was a Finalist for the European Women of Achievement Award, 2005
Eileen is a founder of the Follett Group of leading international women mediators. She is a member of various panels including the CPR Mediator Panel in New York and was also appointed as the Vice-Chair of the International Mediation Institute Independent Standards Commission in the Hague. She is a former member of the Advisory Panel of the Conflict Analysis Research Centre (CARC) at the University of Kent and a former member of the Council of Distinguished Advisors of the Straus Institute for Dispute Resolution at Pepperdine University, California. She is a former Governor of Surbiton High School, London.
For more information visit Eileen's website here