Karolina Jackowicz
Mediator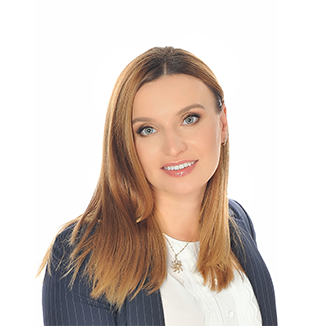 Client feedback:
"Karolina walked us through a difficult business dispute to a settlement taking into consideration our personal needs. It was far from easy but ultimately worth it – largely thanks to Karolina's guidance."
Languages
Polish, English
Overview
Karolina Jackowicz is a mediator focused on helping entrepreneurs (especially start-ups and small & medium enterprises – SMEs) resolve business disputes conveniently, effectively and affordably. That means with:
solutions compatible with both the people's and the business' needs;
the least amount of disruption to your daily operations and long-term growth;
the goal of turning difficulties into a source of improvement and innovation.
As a fellow digital industry entrepreneur and CEO of a legal tech start-up, Karolina understands business challenges very well. Hence, her industry experience, together with extensive legal education and dispute resolution expertise create a unique setting for successfully navigating conflicts. Karolina's core mediation strengths are: (1) practical legal and business know-how, especially within tech and creative sectors; (2) empathy, with alertness to cross-cultural elements of disputes; and (3) meticulous procedural organisation of the mediation, specifically tailored to the needs and habits of the digital natives and busy modern professionals.
Karolina is a CEDR accredited mediator (since 2015) and CIArb's Fellow (since 2019) whose mediation career started in 2013 with winning the ICC's global international commercial mediation competition. Karolina's mediation experience focuses on commercial disputes (overwhelmingly contractual) and covers a broad range of roles, including of a mediator, an adviser and an academic.
Professional background
Co-Editor in Chief and Co-Founder, CEE Legal Tech, Bucharest – 08.2019 onwards
KJADR, Principal, Warsaw – 06.2019 onwards
Teaching Associate, Queen Mary University of London, School of Law, London – 07.2017-02.2018
CEO and Co-Founder, Lexpansio, Warsaw – 03.2017 onwards
Course Founder and Co-ordinator, ICC Arbitration & ADR Training Programme, Jagiellonian University in Krakow, Faculty of Law & Administration, Krakow – 06.2014-02.2018
Chair of the Board, Association Let's Mediate, Warsaw – 05.2015-05.2018
Legal Extern (PhD), Legal Division, International Maritime Organization (IMO), London – 02.2017-06.2017
International Centre for ADR of the International Chamber of Commerce (ICC), Paris – 07.2013-08.2013
Arbitrator's Assistant, Eversheds, Warsaw – 04.2013-08.2013
Other professional experiences include: summer law firms & court clerking internships | secretarial and office administration jobs | hospitality jobs.
Expertise
| | | |
| --- | --- | --- |
| Information Communication and Technology | Energy & Natural Resources | |
| | | |
| | | |
| | | |