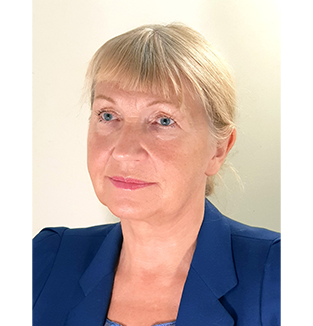 Client feedback:
"Laima helped me to see and understand what the other party really needed. And, most importantly, to see and understand what I really need myself".
Languages
Latvian, Russian
Overview
Laima Ārija Zelmene is a lawyer for 25 years and a mediator for 15 years. She is recognised as one of the beginners of mediation techniques in Latvia. She has participated in more than 400 media cases as a mediator.
She is a chairman of the board of the Mediation Council of Latvia. Also, she is one of the co-founders of NGOs "Integration for Society", "Mediation and ADR", which play important roles in policy development of mediation in Latvia.
Laima  Arija  Zelmene is a lecturer of mediation and, more important, she is one of the authors of training programmes for legal practitioners (notaries, judges, bailiffs) and for teachers and pupils ( "Mediation at School", "Organization of the Peer Meditation in School").
Her opinion: There are no unresolved situations if the Parties have aim to resolve them!
Professional background
12.1994.-present: Sworn Attorney
2004.-20.10.2014.: Mediator
10.2014.-present: Certified Mediator
2007.-present: Lecturer on Mediation
06.2011.-31.12.2015.: Mediator at  The Riga Orphan's Court, Street Kalēju 78, Riga, LV 1050
11.2014.-present:Vice-Chair of  The Council of Certified Mediators, Street Kr.Barona 88, Riga, LV 1001
08.2011.-present: Chairman of the Board, Project Manager of the   NGO "Council of Mediation". Street Kr.Barona 88, Riga, LV 1001
-present : Vice President, Project Manager of the NGO "Integration for Society". Babītes Ŗeg., Salas Parish., Silmalas "Ratnieki", LV-2105
-2014.: Chairman of the Board of the NGO "Aediation and ADR", Street Kr.Barona 88, Riga, LV 1001
-present: Board Member of the NGO "SILVA METHOD LATVIA", Street Maskavas 254 k.3-21, LV-1063
1992-1994. : Head of Legal Department of SIA "Ekofarma", Street Maskavas 257, Riga, LV-1019
1991-1992 : Head of Legal Department of A/S "Ekois", Street Maskavas iela 257, Riga, LV-1019
1990-1991. : Deputy Director of Riga Musical Center ,Street Grēcinieku 8, Riga, LV-1050
Expertise