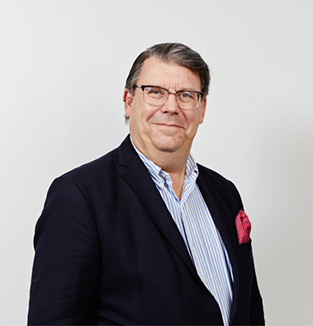 Client feedback:
"Mikael Wahlgren has, in co-partnership with United States Magistrate Judge James E. Gates, acted in the US as a Special Master under the authorization of the US Federal Court in a mediation between a US and English company in April 2019." – Judge James E. Gates of the US Federal Court
Languages
Swedish, English
Overview
Mikael Wahlgren has 25 years' experience and knowledge of, amongst others, managing arbitrations, disputes and acting as an arbitrator, mediator and adjudicator. He was the General Counsel for the Alfa Laval Group and in-house counsel for Skanska, ABB, Rolls-Royce and NCC. Today he acts as independent senior legal counsel and as industrial specialist arbitrator, mediator and adjudicator.
He has as General Counsel, In-house Counsel and independent senior legal counsel, acted as arbitrator and mediator, been responsible for handling, managing and defending my employers' position as plaintiffs or defendants in various disputes as well as supervising and appointing external counsels both in domestic and international arbitrations and alternative dispute resolutions. His industry knowhow includes, amongst others, the handling of legal and contractual disputes within the international manufacturing, infrastructure, energy, construction, Life Science and Med Tech industry.
He is a certified Arbitrator by the Stockholm Chamber of Commerce and the Swedish Arbitration Association, accredited as Mediator by the CEDR and an Oxford Process/CEDR certified international conflict Mediator and Peacemaker. He is a member of the International Council for Commercial Arbitration, the Swiss Arbitration Association, ICC, the London Court of International Arbitration, the International Institute for Conflict Prevention and Resolution, the Dispute Resolution Board Foundation, the Federation of Integrated Conflict Management, the Swedish Arbitration Association and the Swedish Mediators.
Professional background
·Linton & Wahlgren AB (Lund, Sweden). Position: Owner & Senior Legal Adviser. – 2016/ current

·Dignitana AB (Lund, Sverige). Position: Deputy CEO – 2018/2020

SenzaGen AB (Lund, Sverige). Position: Deputy CEO. – 2018/2019

Alfa Laval Corporate AB (Lund, Sweden), the head office of the Alfa Laval Group. Position: Vice President, Company Secretary & Group General Counsel. – 2006/2007

NCC Construction Sweden AB (Stockholm, Sweden), the head office of NCC Group's Swedish construction business. Position: Senior Legal Counsel. – 2004/2006

Rolls-Royce Power Venture Ltd (London, England), responsible for handling the Rolls-Royce Group's ownership and financing of its power plant projects. Position: Senior Legal Counsel. – 2000/2003

Asea Brown Boveri Ltd, ABB Business Services Ltd and ABB Alstom Power N.V., (Baden, Switzerland), the head office of the Swiss part of the ABB Group's business. Position: as Legal Counsel. – 1997/2000

Skanska International Civil Engineering AB (Danderyd, Sweden), the head office of the Skanska Group's international civil engineering business. Position: as Legal Counsel. – 1992/1997
Expertise
| | | |
| --- | --- | --- |
| Construction & Engineering | Information Communication and Technology | |
| | | |
| | | |
| | | |