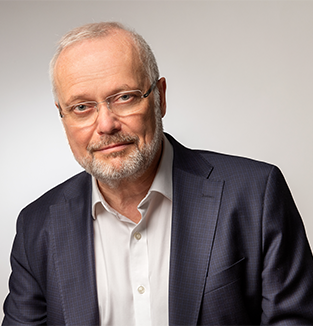 Client feedback:
"… I have been especially impressed with Mr. Lindbäck's skill in appreciating both the intellectual challenge and the practical need to achieve a result.  …"
Languages
Finnish, Swedish, English
Overview
Since graduating from the University of Helsinki in Finland with a master's degree in Law, Ralf Lindbäck has successfully followed a career specializing in legal matters relating to the energy sector, the maritime and offshore industry.  He has extensive experience as in-house counsel for the business divisions of a listed international corporation as well as negotiating long-term services agreements.  This work has given Ralf Lindbäck considerable involvement in structuring international transactions.  Working with foreign administrations and global clients has further broadened his understanding of different legal systems, while also enhancing his reputation and track record in international dispute prevention and resolution.
Ralf is a Member of the Finnish Arbitration Association, the Collaboration Council of the Centre for Effective Dispute Resolution (CEDR, London), the European Advisory Board of the International Institute for Conflict Prevention & Resolution (CPR, New York), and the Chartered Institute of Arbitrators (CIArb, London).  Ralf Lindbäck's curriculum includes postgraduate studies in maritime law as well as North Sea oil and gas law (University of Oslo, Norway), management (IMD, Switzerland) and international dispute resolution (University of Geneva, MIDS, Switzerland).  He is a regular speaker at conferences and an Accredited Mediator by the Centre for Effective Dispute Resolution (CEDR) and the Chartered Institute of Arbitrators (CIArb).
Professional background
Wärtsilä Corporation[1] (1994 – present )
Recent accomplishments in Wärtsilä: Developing and implementing a cost effective and non-disruptive claims and dispute management process for early identification, intervention, and resolution of issues in dispute to preserve business relationships. The process won the Financial Times' 'Innovative Lawyers Award – Europe 2018' (Innovation in the business of law and operations – Data, knowledge, and intelligence).
| | | |
| --- | --- | --- |
| Managing Counsel, Dispute, Insurance and Trade Management, Marine | Wärtsilä Corporation | 2019- present |
| Vice President, Legal, Services | Wärtsilä Corporation | 2006-2018 |
Before 2006: General Counsel, Wartsila North America Inc. (1998-2002), Legal Counsel, Wärtsilä Finland Oy (1994-1998, 2002-2006), Head of Legal Department, The Finnish Marine Insurance Co Ltd (1988-1994), Research Assistant, University of Oslo – The Scandinavian Institute of Maritime Law (1988), Training on the Bench, Raseborg District Court (1986-1987).
[1] Wärtsilä is a global leader in smart technologies and complete lifecycle solutions for the marine and energy markets. By emphasising sustainable innovation, total efficiency, and data analytics, Wärtsilä maximises the environmental and economic performance of the vessels and power plants of its customers. In 2019, Wärtsilä's net sales totalled EUR 5.2 billion with approximately 19,000 employees. The company has operations in over 200 locations in more than 80 countries around the world. Wärtsilä is listed on Nasdaq Helsinki. www.wartsila.com
Expertise
| | | |
| --- | --- | --- |
| Energy & Natural Resources | Construction & Engineering | Information Communication and Technology |
| | | |
| | | |
| | | |