Frequently asked questions
How we can help you make a complaint
How we can help you make a complaint
We will collate information from you and the company and then the adjudicator will consider the documentation and make a decision. If the adjudicator requires any additional information CEDR will contact you by telephone, email or post. All documentation provided by the passenger and the airline is shared with both parties.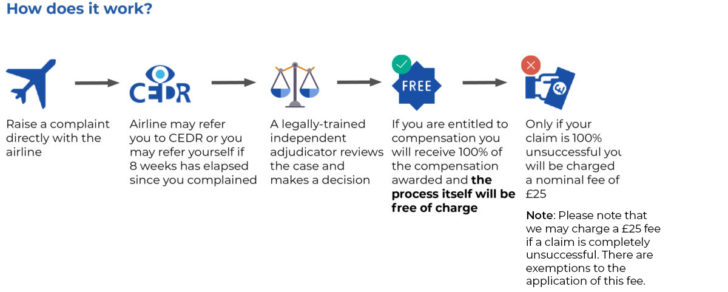 We aim to complete our work on any case within 90 days of receipt of the full case file, but in most cases the process can be completed in as little as 45 days from receipt of a complete case file. Please note that due to covid, some of the timelines outlined in the Scheme Rules have been extended.
Things we cannot assist with
Personal injury claims
Discrimination
Where dealing with such a dispute it would seriously impair the effective operation of CEDR
Fairness of the terms of a contract for aviation services 
Fairness of a subscribing company's commercial practices
What is Alternative Dispute Resolution (ADR)?
ADR can be a swifter and cheaper alternative to court action to getting your claim resolved. However, if you choose ADR and are not happy with the outcome, then you may decide to pursue your claim through the courts afterwards. If so, you can only do so if you have not left it too long to bring your court claim. Any claim has a limitation period (or time period) after which a claim cannot be brought before the court.
As regards discrimination under the UK Equality Act this is dealt with by the County Court (in England and Wales) and the Sheriff Court in Scotland. County and Sheriff court deadlines for discrimination cases are six months less one day from the date of the incident you are complaining about. Information about how to bring a civil claim in the County Court (England and Wales) can be found on His Majesty's Court Service, and for Sheriff court claims in Scotland from the Scottish Court website.
There is also the possibility of seeking legal advice as regards compensation under SI No. 2833 / 2014 "The Civil Aviation (Access to Air Travel for Disabled Persons and Persons with Reduced Mobility) Regulations 2014. The timeframe for taking such a case is also, within 6 months from the date of the incident.
The timeframe for taking a case to court under EU directive 261/2004 is 6 years from the date of the incident The time limit for bringing a breach of contract claim is 6 years from the date of the breach.
Detailed information about the civil procedure rules can be found on the Ministry of Justice website. Practical advice, including a helpline, as regards equality and human rights is available from the Equality Advisory Support.
Guidance
Guidance
Are there any guidance notes explaining who CEDR are and what they can do?
Yes. We have detailed rules and downloads to help you. You can also call or email us for assistance. Check the downloads section to find them. 
What kinds of complaints against a member airline can CEDR consider?
The scheme can only be used to settle disputes relating to the following matters:
Denied boarding, delay, or cancellation;
Destruction, damage, loss, or delayed transportation of baggage;
Destruction, damage, or loss of items worn or carried by the passenger;
Problems faced by disabled passengers or passengers with reduced mobility when using air transport services; and
Any more general disputes arising where the customer alleges that the business is not trading fairly.
Who approves the Aviation Scheme?
The Aviation Adjudication Scheme is administered and managed independently by CEDR, an independent Alternative Dispute Resolution Provider certified by the Civil Aviation Authority (CAA) to provide dispute resolution for the aviation sector.
CEDR was approved as an ADR Entity by the CAA in January 2016. Under the Alternative Dispute Resolution for Consumer Disputes (Competent Authorities and Information) Regulations 2015, CEDR is required to publish information on an annual basis relating to the operation of the Scheme. Please visit Reports to view the annual reporting.
Application Process
Application Process
Is applying online any different from applying by post?
The only difference between applying online or by post is that it may be more convenient for you to apply online. This is especially the case if you wish to take your time completing the application form and if you have all of your evidence available in electronic format. Just because you apply online, however, does not mean that you have to continue online, you can choose to use the post, email or telephone later on.
How will I know what to send to CEDR when I make an application?
We will provide you with an application form which includes guidance on what information we require.
How does CEDR process my application?
We will collate information from you and the company and then the adjudicator will consider the documentation and make a decision. If the adjudicator requires any additional information CEDR will contact you by telephone, email or post. All documentation provided by the passenger and the airline is shared with both parties.
You should, first of all, let the airline know that you have a problem with them and allow them the time to try and resolve the problem. If the matter cannot be resolved to your satisfaction the airline will write to you and tell you that you can refer the matter to CEDR for adjudication.
How do I calculate compensation for flight delays/cancellations?
For flights of up to 1500km (932 miles) that are cancelled or delayed by 3 hours or more, each passenger is entitled to compensation of GBP 220
For flights between 1500km (932 miles) and 3500km (2175 miles) that are cancelled or delayed by 3 hours or more, each passenger is entitled to compensation of GBP 350
For flights of more than 3500km (2175 miles) that are cancelled or delayed by 4 hours or more, each passenger is entitled to compensation of GBP 520
To support your claim, you need to provide the following:
Details of the compensation you would like the airline to provide
A breakdown of your claim into separate items; and
Enough detail and information to satisfy the adjudicator that your claim is valid.
Who can complain?
Who can complain?
You can apply to CEDR for adjudication if you were a passenger of a subscribing airline member.
My airline isn't a CEDR subscriber. Where should I go next?
If your airline is not a CEDR subscriber you should ask them to tell you who their nominated ADR provider is, as they are obliged to tell you who it is by the CAA.
Where can I find out details of which airline or airport are subscribers to CEDR?
A full list of the airlines and airports CEDR adjudicate on can be found on our companies covered page. 
Cost
Cost
How much does it cost to complain?
If your claim is completely unsuccessful we may charge a fee of £25. However, all claims with an element that relates to disability rights will be exempt from the £25 charge, even if the claim is not successful.
Please note that if your claim is partially or fully successful, then the adjudication is completely free and you will receive 100% of the compensation directed by the adjudicator.
The only other cost to you is in preparing and submitting your application, for example, photocopying and postage. However, you can email the Enquiries & Administration Team to provide your information or register a case via our online portal directly.
Making a decision
Making a decision
What if the airline and I decide to settle the case?
Either party has a right to enter into settlement negotiations at any time before the adjudicator makes a decision. Negotiations are private discussions between the parties and you should correspond directly with the airline and not through us. If you do settle, we need the airline to let us know in writing and we will call you to make sure that you have settled. You should note that if you do settle and the airline fails to take the agreed action you should tell us and we may be able to re-open the case. You can also pursue the company in court.
What if I don't like the decision made by CEDR?
If you are simply unhappy with the adjudicator's decision you may reject it. The adjudicator's decision only becomes binding if you accept it within six weeks of being told what the decision is.
Whilst the decision cannot be appealed if you are simply unhappy with it, it can be reviewed in instances where you consider that there has been an irrational interpretation of the law, or if the adjudicator ignored relevant information or took into account irrelevant information. Please refer to the aviation complaints policy for further information.
Collecting data
Collecting data
Will I see everything the airline says about me?
Yes. The process is transparent and both parties see everything submitted by the other party.
What is a Subject Access Request?
To read more information on Subject Access Request (SAR) please click here 
Accessibility
Accessibility
I have difficulty completing forms. Will you help?
For those customers requiring assistance with completing forms due to a disability (or other issue that requires additional support) we would be happy to discuss this with you and make necessary adjustments to suit your needs. We do not offer this service to every customer, you will be responsible for completing your own application form unless you can demonstrate a need for additional support.
Complaints about CEDR
Complaints about CEDR
What if I have a complaint about CEDR?
If you want to complain about CEDR please read our Complaint Review Policy & Process document below. Once you have read this document and you want to submit your complaint, please use our online Complaints Form below. Please note that a customer and the subscribing airport or airline must pay their own costs of preparing their complaint about CEDR.
Complaint Review Policy& Process 
Privacy Policy
Privacy Policy
Is CEDR registered under the Data Protection Act 2018?
Yes, we are registered under the Data Protection Act 2018.
What information do we collect? How do we use it?
When you apply for adjudication, we need to know your name, address, e-mail address and details of the matters in dispute. We also ask for your telephone number to enable us to contact you if there are any problems. The information collected is used only to allow us to process your application. The information WILL NOT be used to send you any marketing material for other CEDR Services.
How is customer information protected?
When you apply for adjudication, secure server software (SSL) encrypts all information you input before it is sent to us. Furthermore, as required by the UK Data Protection regulations, we follow strict security procedures in the storage and disclosure of the information that you have given us, to prevent unauthorised access.
Cookies are small pieces of information that are stored by your browser on your computer's hard drive. We may use cookies to generate statistics on the usage of our website. Our cookies do not contain any personally identifying information. Most web browsers automatically accept cookies. However, if you wish, it is usually possible to change your browser to reject cookies. This would not affect your use of our site.
Will CEDR Services Ltd disclose the information it collects to outside parties?
We do not sell, trade or rent your personal information to others. The only people with access to your information will be CEDR staff, the airline and the Adjudicator. We may produce aggregate statistics about applications under CEDR for public consumption but these statistics will include no personally identifying information.
By using our website, you consent to the collection and use of this information by us. If we decide to change our privacy policy, we will post any changes on this page so that you are always aware of what information we collect, how we use it and under what circumstances we disclose it. Please note that the information you enter may be transferred outside of the European Economic Area for the purposes of resolving the dispute between yourself and the Company and you consent to this transfer by using this website.
The steps you must take before submitting a complaint
1

Contact the company
Raise your complaint with the company in the first instance. The airline will try and resolve your complaint to your satisfaction. This may take several weeks but you must allow them sufficient time to assess your complaint and respond.
2

Get in touch with CEDR
If the passenger and airline are unable to find a mutually acceptable resolution to the complaint the airline will issue a 'final response letter'. This letter will tell you that the airline is unable to take your complaint any further and it should normally say that you may refer the matter to CEDR for adjudication.
3

Accept or reject the final decision
CEDR will adjudicate the dispute and an adjudicator will issue a final decision. You are free to either accept or reject this decision.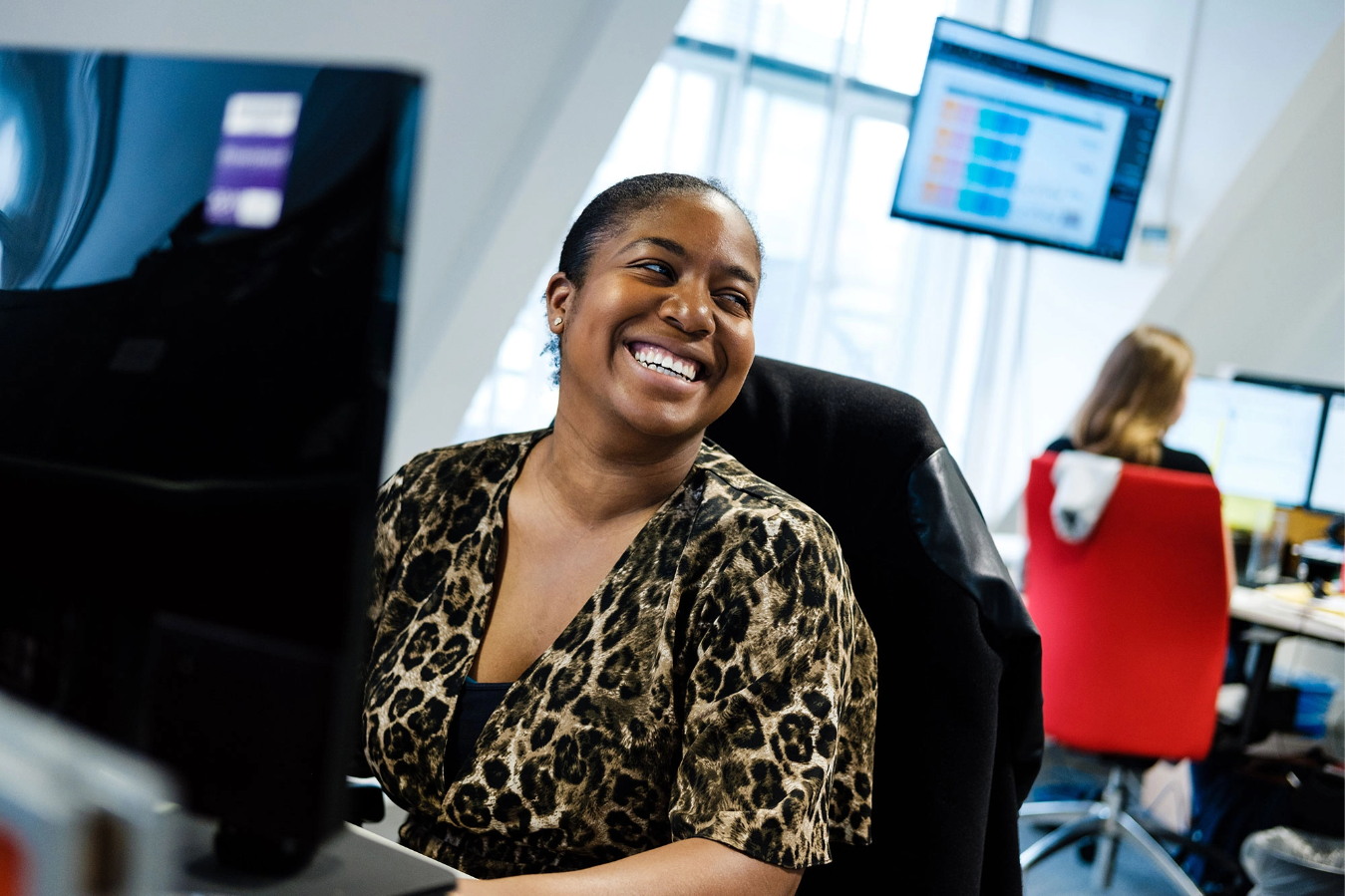 Are you a business?
CEDR can provide dispute resolution services for business in most sectors.
Fast, and cost effective solutions

Provided at a sustainable cost
Skip to main content